Could a Major Caribbean Telecoms Merger Mean the End for Caribbean Broadcasters?
Could a Major Caribbean Telecoms Merger Mean the End for Caribbean Broadcasters?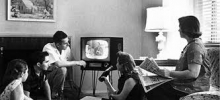 Flow's Secrecy Unfolded
The build-up was impressive. There was great secrecy, a stage draped in 'silk' with silhouetted dancers and when the curtain fell, flashing lights and tech music. "We're ready to take over the world" "We run tings, tings nuh run we", were two of the introductory statements as Flow's VP Marketing, Donovan White, entered the stage. This was the launch of Flow/Columbus Communications' new advanced video service. By any standard it was a well produced and executed product launch.
The Death of 'Appointment TV'
A short and interesting video reminded us of the history of television, from the network era to that of multi-channels, and into today, the post network era. Today the shift in television viewing from being a family affair and driven by the concept of 'appointment TV', to one where TV is in the palm of our hands and I watch what I choose, when I choose to and via whatever device I choose, is making a steady march into all our lives. Flow's advanced video service will speed this up and television in the Caribbean will never be the same.
Struggle for Caribbean Broadcasters
Flashback to not even 20 years ago when most of the television stations across the Caribbean were government-owned. By 2013, there were only about 16 Government-owned TV stations, compared to about 113 not so owned. Note as well that 20 years ago cable TV had not yet planted firm roots in the region. Free-to-air TV, also known as terrestrial TV, ruled and broadcasting was designed to serve the public good.
The Caribbean Broadcasting Union (CBU) was a mighty force, responsible for buying and un-selling programmes like World Cup Cricket and Football as the well the Olympics to Broadcasters. As a CBU Board Director for several years, including serving as VP Television, I had a ring-side seat and was involved in the process.
Fast forward to 2015. Free-to-air TV stations in the Caribbean largely struggle for relevance as cable and Internet TV pull and fragment audiences. Complaints rain when TV stations try to maintain relevance by purchasing popular programmes and scheduling them based on the station's convenience and driven by profitability motives. In Jamaica the two free-to-air TV stations have been publicly scorched by viewers for their respective purchase of Scandal and Empire.
With Scandal it had to do with, among other things, the station' blocking Jamaica's cablecast of the current season and interrupting viewers' scheduled participation and enjoyment of the programme as 'gladiators' via social media. With Empire, (a programme produced for cable TV), anger is directed at the requisite editing to remove scenes that may be unpalatable for free-to-air TV's audiences and in breach of station licence with the Broadcasting Commission of Jamaica. Free-to-air and cable TV are still held to different standards, something of an anachronism in our present reality of 'boundary-less' technologies.
As the first General Manager of Television Jamaica (TVJ) and one who understands the nuances of programme purchase and placement as well as the 'thin margins' of terrestrial TV, I shudder at the level of public ignorance regarding the real-life struggle for survival of these TV stations. But then, perhaps John and Jane Public do understand but simply do not care. They want what they want to watch, when they want to watch it. This is a part of the promise of Flow by way of their advanced video services.
Flow Revolution in Home Entertainment
A "revolution in home entertainment' is what Flow's suite of services promises across their regional cable TV platforms. Set Top Boxes in High Definition format, with user-friendly remote controls aligned to the software in those boxes, will facilitate ease of use and deliver superior quality images. This is a winning combination. In addition there will be cloud personal video recording so one never has to miss one's favourite show. Although that looks more of a medium-term promise than an immediate reality, it will come. A move to digital switch-over of Flow's local channels to High Definition format is one that many also look to come soon.
For free-to-air TV stations, still largely lingering in the era of analogue technology with blurry images, Flow's move is likely to further erode the audiences of regional TV stations. Remember that Flow is already well established in at least five Caribbean territories. Its CWC-LIME merger gives Flow access to the depth of that entity's penetration of Caribbean countries. Combined, LIME and Flow pretty much blanket the region.
Although the affordability factor will constrain take-up of Flow's offerings, its launch brochure makes the advanced video service seem relatively inexpensive. 'Watch All' with 272 channels and 15 hours of cloud storage is priced at Jamaican $6,499 per month. At an exchange rate of just over J$115.50 to one US dollar, this comes in at about U$56 per month. And after all, who really wants to 'Watch All'? The 'Extended Package' with 221 channels and 15 hours cloud storage is about half that price and the one more subscribers will likely support.
A Boon for Content Creators
While the LIME/FLOW merger may mean problems for TV broadcasters in the Caribbean, it looks to spell an obvious boom for content creators and owners. Since the start of 2015 Flow has already snapped up and aired live, products such Rebel Salute from Jamaica and Soca Monarch from Trinidad & Tobago. Free-to-air TV stations are treasure troves of content. Station owners may therefore want to consider repurposing and packaging content for online platforms as well as for sale to cable TV. After all, is it better to die or to morph into something else?