Women in Jamaica's Election
Women in Jamaica's Election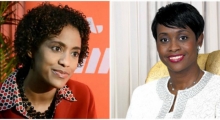 Hillary v/s Bernie
Politics is seen as  a'dirty game', unbecoming for the 'fairer sex'. But women want in. They want a greater say in decisions that impact their lives. There is no better avenue for this than through representational politics. In the USA, Democrat Hillary Clinton is up against the ropes by 75-year-old populist, Bernie Sanders, who amazingly is talking anti-establishment talk. Hillary has her work cut out. On the Republican side, Carly Fiorina threw in the towel days ago in light of the inexplicable Trump triumph.
Caribbean Female Prime Ministers
Within the Anglophone Caribbean, Eugenia Charles of Dominica smashed the glass ceiling and held the helm for 15 years from 1980 to 1995. Then there was Janet Jagan who served as Prime Minister/President of Guyana from 1997 to 1999. Come the 21st century there was Simpson-Miller in Jamaica from 2006 – 2007 and again 2011 to present. In Trinidad and Tobago, Persad-Bessessar had a 5 year run from 2010 to 2015. Now Simpson-Miller is again to be tested as Jamaica prepares to vote in February 2016.
Women & Representational Politics
While only 10% of the People's National Party (PNP) candidates in 2011 were female, this has climbed to 19% on their 2016 slate. For the JLP, however, this has fallen from 20% (13 females) to 16% (10 females), with Saphire Longmore once again entering the race very late; this time a mere three weeks before the February 25th Election Day. In 2011 she was also called upon at the 11th hour and lost.
In the Parliament that was just prorogued as a part of the process toward National Elections in Jamaica, women comprised about 14% of the JLP's 21 seats while for the PNP they accounted for 12%. These percentages are really quite dismal. Now, even if all twelve women being put up to run for the PNP is the coming elections were to win their seats, based on the results of polls and forecasting, they would likely at best comprise only 30% of that party's Parliamentarians. That would be historic but is not anticipated.
The Odds & The Duncans
I say "not anticipated" because 3 of those PNP women are running in JLP strongholds – North East St. Andrew with Delroy Chuck, North Central St. Andrew with Karl Samuda and Central Clarendon with Mike Henry. So immediately we can remove those 3 women from any expectation of electoral victory. Then too there is South East Clarendon with Ruddy Spencer who is expected to prevail, even with the Duncan Dynasty behind his opponent Patricia Duncan-Sutherland. That leaves 8 PNP women who may win.
Yet still, it would be unwise to assume that the other Duncan sister in the election race, Imani Duncan-Price, pulling on not just family support but Campion College old-school ties, is a foregone winner against Juliet Holness, wife of the Leader of the Opposition, Andrew Holness. Juliet, with only 2 months on Instagram, compared to Imani's close to 3 years, has been running a good campaign on that platform, pictorially showcasing her hard work and connection with constituents. Reports are that this may prove to be a 'David and Goliath' story.
Women vying Women
An interesting twist in these elections is the match-up of women, with JLP's Marlene Malahoo-Forte up against PNP incumbent Sharon Ffolkes-Abrahams for the St. James West Central seat and the above mentioned PNP's Imani contending with JLP's Juliet Holness for St. Andrew East Rural.
On many levels Election 2016 in Jamaica is one to watch for women. Not just for the match-ups but too for the performance of women like Olympics sprint medallist, Juliet Cuthbert, who at 51 years of age is not only pregnant but fully on the campaign trail for the JLP in St. Andrew West Rural, a battleground seat.
Women Want More
Women are no longer satisfied to be 'barefoot, pregnant and in the kitchen'. Women want more and are working for it. Those who 'bite the bullet' and enter representational politics in Jamaica are worthy of our support because it is not an easy road.