How Caribbean Youth Are Turning Digital Content Into a Business
How Caribbean Youth Are Turning Digital Content Into a Business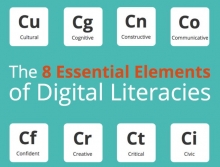 Role-Models are Essential
When you talk with Caribbean youth about the possibilities and hope that working online offers, you have to give them real-life examples to hang their dreams on and help them to understand that it can be done and that others are doing it. Role models are essential. So in my previous article on digital literacy, DuttyBerry and Wally British, two youths (a male and a female) who are earning money from their digital content were highlighted. In this article I will feature a few more youths.
Digital Literacy – More than Selfies!
I used the term 'digital literacy' throughout that earlier presentation and you would have picked up that it involves learning to use digital tools, such as our cell phones, tablets and other computers as well as the Internet. These are called communication technologies and are vital for 21st Century living.
But, beyond just learning how to use these tools, we need to understand how to use them effectively to better our lives. A big part of digital literacy is to use these various technologies to create content or information and to share what we create with others via various means, including, but not limited to social networks. It's not just about posting selfies!
Why is Digital Literacy so Important to Youths?
As I spoke to the teenagers, all high school students, sitting in the auditorium and eagerly lapping up my words, I needed to help them to understand something about work-world realities and why digital literacy was so important to their future.
There are no jobs waiting for youths after graduation. As you heard before, DuttyBerry sent out over one hundred resumes and didn't get a job. So you see that even those with a university degree have a hard time finding jobs.
This is so throughout the Caribbean where youth unemployment runs at about 40 percent and is reported to be the highest in the World. Note though that youth unemployment is a global phenomenon, so trying to help yourself by creating your own way of making a living is critical.
I want you to write down these names and their businesses and Google them to learn more about how they have set up online businesses and are doing well.
Sandor Panton of Top5Jamaica has been making a living from the Internet for many, many years now. Trained in Canada, he got started early and offers a wide variety of services.
Gordon Swaby of EduFocal, a site some of you are likely to be quite familiar with since it involves the gamification of education, is only about 24 years old. He has been earning money online from he was a teenager.
The Internet is a space and a place where, with good digital literacy skills, youths can find jobs. Sites such as eLance and Fiverr will pay you for online work. Jobs online are not bound by geography or physical locations. You can work for anyone, anywhere in the world.
Another reason why digital literacy is so important to Jamaicans relates to this island's large number of cell phones and now many of them are smartphones. Cell phone penetration in Jamaica is over 100%. Many youths own a cell phone and are quite adept at using them. They can therefore use this device to help them to set up small businesses.
A quick word about Facebook and Cyberbullying
Too many of you only really know Facebook and other social media sites and do not spend enough time learning about the rest of the Internet. About one third of Jamaicans are on Facebook. Those in the 16 to 24 age range make up about a half of all Facebook users in Jamaica. So in this island, Facebook is mainly a young people thing.
As I pointed out in STREAMING: Social Media, Mobile Lifestyles, Jamaican youths, both the males as well as the females, get up to all sorts of things on Facebook. An entire chapter of this book is called 'Facebook All-Mighty' and in it there are sub-sections with titles like:
'Girls Quarrel, Boys Flirt'
'Facebook Face-offs by Females'
Facebook & Raging Hormones'
Facebook is the site for a great deal of cyberbullying. Let me quote directly from one teenage girl (STREAMING page 11)
"…even if I don't know you and you posted something
and then somebody else comment and I don't like it.
Me just comment and just tell them wha deh pon me mind
and then you start up this big argument. Some a the time
I just log out and it many continue, although me no really care."
Early in last month the Sunday Gleaner carried a story that Holy Trinity students launched a programme called YES – Youth Empowered to Strive – to protect themselves. In that newspaper article the girls talked about others who post nude pictures to Facebook just for 'likes' and also for money.
Remember that your potential employers are likely to scour the Internet to learn about you before they offer you employment. Young people need to be wise about what they post online. It can compromise your future.
Facebook Can Do Good
My presentation on digital literacy was to teenagers, their parents and teachers. The teenagers were high school students who had entered an essay competition, with the topic, 'Digital Literacy is vital to our lives in the 21st Century, as is Traditional Literacy. Discuss'. That competition was organized by the National Library Service of Jamaica, its Shortwood Road branch, and was in its seventh year. About 20 students from 10 high schools participated.
I was unable to stay for the end of the function. A few days later a teacher who I had met there, Teri-Ann Paisley, messaged me via the Facebook page for one of my books. It came to me as an email notification. She was delighted that Shannon Young from her school and my alma mater, The Queen's School, had won the essay competition.