Social Media for Social Good
Social Media for Social Good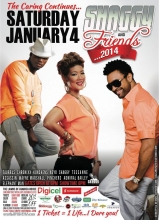 Jamaicans in Atlanta
Jamaicans in the Convention Centre, Atlanta 2011, wanted to get on with the dance. It was the annual Independence Ball hosted by the Atlanta Jamaica Association.
Guided by the organizers, I had prepared a half-hour Keynote Address. Titled Jamaican Diaspora, Social Media & Strengthening the Ties That Bind, it focused on how those abroad could use social networks and the Internet to keep abreast and get involved with activities/businesses in their homeland Jamaica.
The people wanted to dance! Later I learned that dancing was the highlight of this annual Ball, not the Keynote Address. Assessing the audience as I spoke, the address was cut and carved "on the fly." Many were older Jamaicans, not as social media savvy as assumed. They wanted to hear the music and to dance.
Picture me telling them about the growing embededness of social networks and their increasing "stickiness," meaning that some of these networks are quite addictive, when their mind was on dance. I emphasized that the phenomenon of social media was not going away but would become more and more integrated in our lives. "How then can we marry our Diaspora to social media to strengthen ties with homeland?" I asked.
The urge to dance grew stronger. I sensed it and wrapped up with, "My call to action is for you to take just one simple act — Leverage your participation in social networks to foster greater links with Jamaicans at home. " That was 2011; now fast forward to September 2013 to Tessanne Chin and The Voice. Then continue into 2014 with Shaggy & Friends.
Social Media for Social Good
The use of social media for social good is beginning to come of age. Jamaicans at home and in the Diaspora are seizing the opportunities Twitter, Facebook, Instagram, Blogs, Vlogs and other online networks and avenues offer for this purpose. Social networks have extended beyond millennials and techies.
The profile of Jamaicans on social networks has changed markedly since by first entree just over three years ago. It is no longer a "young people thing." The former Contractor General of Jamaica took to Twitter in 2013 as @Greg0706 and is making a difference by posting up-to-date links featuring crime and corruption worldwide and how this twin-headed monster is being tackled elsewhere.
Social media for social good by Jamaicans was demonstrated by support for Tessanne Chin's entry into US network NBC's singing competition, The Voice, during the last quarter of 2013. Jamaica and Jamaicans needed a win to buoy our hope at a dark time and to enhance our self-worth coming out of a year with doping charges against some of our major athletes.
Those at home and in the Diaspora, largely organized by Deika Morrison in Jamaica and Marlon Hill in Florida, along with hundreds of others, used the Internet and social media to drive home our support for Tessanne. We tweeted, retweeted, hashtagged, posted, blogged, vloged (Dutty Berry's were outstanding), instagramed, bought her songs via iTunes and generally used Internet-related options to support Tessanne. She won!
#TeamShaggy4Kids
The Tessanne hype rolled right into #TeamShaggy 4 Kids. After all, Tess, a regular performer at this musical event, was making her post Voice debut. The excitement was palpable. Again Deika and Marlon, along with numerous others, rolled up our sleeves and used social media to tremendous advantage in garnering donations. Again the Internet played a vital role in bringing the Diaspora into the mix.
The January 4thShaggy & Friends Concert on the grounds of Jamaica House is, to my best knowledge, the most streamed event in Jamaica's history to date. It was streamed live and then available delayed online for up to Jan. 15, almost two weeks post event. Donations could be made online or via other means. Social media for social good has come of age for Jamaicans. My 2011 keynote address has come to fruition.
I watched the hustle and bustle of Shaggy & Friends from close range. My Phase Three Productions has been involved with this charity event since its inception. It raises funds for a one of a kind hospital in the English-speaking Caribbean – The Bustamante Hospital for Children.
On behalf of Shaggy, Phase Three provided multi-camera coverage of the show in high definition format and supplied television feeds to allow live streaming by various entities including Digicel, the Shaggy Foundation, the Gleaner and Observer newspapers. For product differentiation, some customized the feed by inserting their selected Host. Interestingly, Digicel live streamed the show via their Facebook account with its over six hundred thousand likes — Social media for social good.
Time Come
The time has come for us all to recognize that social networks can be used for social good and not only as forms of entertainment, as important as the latter truly is. There is no gainsaying the role of social media and the Internet in helping to propel Tessanne Chin to victory. After all, online purchase of her iTunes records counted for several votes. Her victory buoyed the spirit of an entire nation and brought us hope at a time when hopelessness prevailed.
While as I write, the dollar count for donations made to Shaggy & Friends has not yet been publicized, again it is clear that the Internet and social networks have played integral roles. But before we throw traditional media out as "bath water," let us not forget that it is free-to-air TV by way of TVJ for Tess and CVM in collab with cablecaster Sportsmax for Shaggy that brought these events to the masses. Although the Government recognizes the importance of net access and high speed broadband these are long in coming. We wait in anticipation. Time Come!