UWI Professor endorses book about the influence of music on adolescents
UWI Professor endorses book about the influence of music on adolescents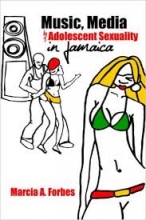 Professor Patricia Mohammed, Professor of Gender and Cultural Studies, University of the West Indies, St Augustine, Trinidad has given Dr Marcia Forbes' book 'Music, Media & Adolescent Sexuality in Jamaica' a glowing review. The following has been excerpted from her review.
In 'Music, Media & Adolescent Sexuality in Jamaica', Marcia Forbes has written a delightful text that is of great value to educators at tertiary and secondary level, a must read by parents trying to understand their coming of age offspring in the age of media and sexual overdrive, media personnel, religious bodies and professionals involved in social policy-making. An introduction by the late Professor Barry Chevannes also endorses the value of the book and it concurs with my reading that it will impact the debates on the role of music in socialization of young people....
What is refreshing about the findings of this book is that they are not prescriptive and admit generously that while contentious and allowing for risky over-exposure, dancehall music and videos are integral to the culture and to the cultural industries of Jamaica and cannot be discarded. It is an open-ended discussion that invites readers to bring their own experience of parenting or educating to bear on this subject....
The book raises an interesting dilemma: it is not that the music video is itself at fault, it has provided a new space to claim sexual and cultural values for nations and peoples. What the book asks us to consider very carefully is how new technologies are being deployed for creativity and cultural expansion and the increasing tensions that have emerged between the sacred and the profane as society has allowed for more public explorations of human sexual expression. These tensions are inevitable in the ever-changing cultural dynamics of society.